Product Information
"Give a man a fish and he'll eat for a day,
Teach a man to drone and he'll eat for life"
THE FISHING DRONE
Taking fly-fishing to new heights
The simple design of the fishing drone guarantees you all the features of a DJI Phantom 4, as well as the fact it has been equipped with a top quality electric fishing spool and a host of other accessories to make fishing even more enjoyable. This unique product lets you sit back, relax and monitor your progress from the comfort of the river bank.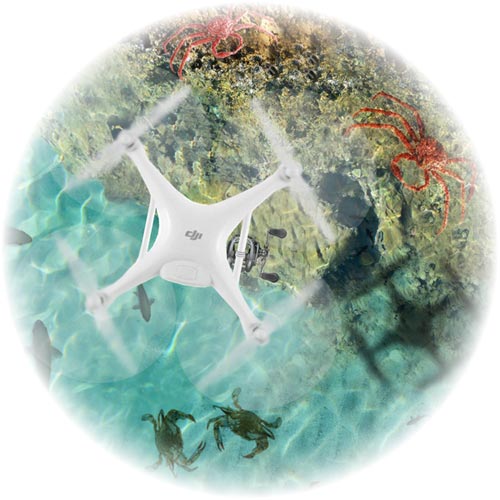 How does it work?
It is really easy to set up the fishing drone and you'll soon be reaping the rewards as it carries your haul back to shore.
Control everything using the Phantom 4's controller and let the drone do all the hard work. Integrated sensors know when a fish takes the bait, or the hook gets caught on an old boot, and automatically rises into the air for you to guide back to your position.
Don't worry about losing control or keeping your drone stable in the breeze as it will make subtle adjustments to remain balanced and steady in winds up to 20mph.
The return to home feature means your drone will return to you automatically so you can prepare for the arrival of the catch of the day. With this feature it will even avoid obstacles so you know your catch will get to you safely.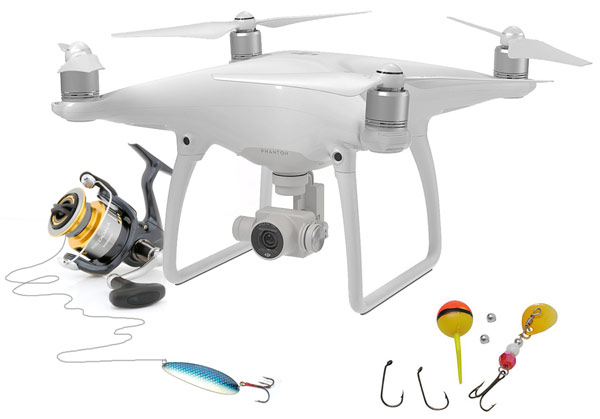 Powerful features
There's no hard work involved with this method of fishing. Add bait to the hook, fly your fishing drone over the river or lake and then cast your line. It is really that simple. Look out for schools of fish using the integrated camera so you can be sure you'll find the perfect spot. You can fish from up to 100m above the water and catch fish weighing up to 200g.
The fishing drone is so powerful and unique; you can send it up to 2km away to fish.
The DJI Phantom 4 is packed full of incredible features and the fishing drone puts them all to good use in ways you may have never expected.
Features:
Integrated electronic fishing spool
Control the drone and spool using one controller
Catch fish up to 200g in weight
Works in winds up to 20mph
Avoids obstacles automatically
Tracks moving subjects automatically using ActiveTrack
TapFly lets you fly with the tap of a finger
Ultra-HD 4K recording
Integrated gimbal for greater camera stability and a smoother flight
Optimised Vision Positioning System raises positioning altitude up to 10 metres
What's in the box?
DJI Phantom 4: Fishing Edition
Electronic fishing spool
Fishing wore and hooks
Phantom 4 remote controller
Phantom 4 Intelligent Flight Battery
Mobile phone holder
Two sets of propellers + propeller storage bag
Charger and power cable
Gimbal clamp
16GB MicroSD card, MicroSD cable and carrying case