COMPREHENSIVE GUIDE

TO ND FILTERS FOR DRONES
Whether you're a drone expert, a photographer wanting to expand your kit and skills, or just looking add some extra flair to your drone media, we've got all you need to know about neutral density or ND filters. This guide is designed to give you everything you need when deciding how to use and what ND filters to buy.
WHAT IS A NEUTRAL DENSITY FILTER?
A neutral density filter or ND filter reduces the amount of light entering the camera lens. Think of them as a set of sunglasses for your drone camera. After all, the higher you fly your drone in the air, the more susceptible the camera is to light interference. ND filters block unwanted light from reaching the camera sensor without affecting colour, contrast and clarity, enabling more creative freedom with your camera settings.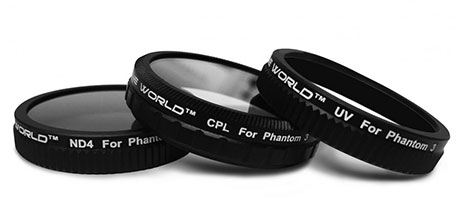 WHAT DOES A NEUTRAL DENSITY FILTER DO?
An ND filter is especially useful when flying on a bright sunny day. Without an ND filter you run the risk of over/underexposure, glare and colour issues that can be a nightmare to correct when editing your footage. If your shot is too dark then you could be spending hours correcting, but if your shots are too bright then it's near impossible to rectify. An ND filter helps to address these issues by limiting the light, allowing you to colour correct your footage alot more easier.
Another application for the ND filter is to smooth out the footage and make it appear more cinematic. This can be achieved by setting the shutter speed to twice that of your choice frames per second. So, In other words, if you're shooting at 30fps, you'll want to set the shutter speed to 1/60th of a second. An ND filter helps limit the ambient light from reaching the camera sensor that would overwise result in overexposure from a using slow shutter speed.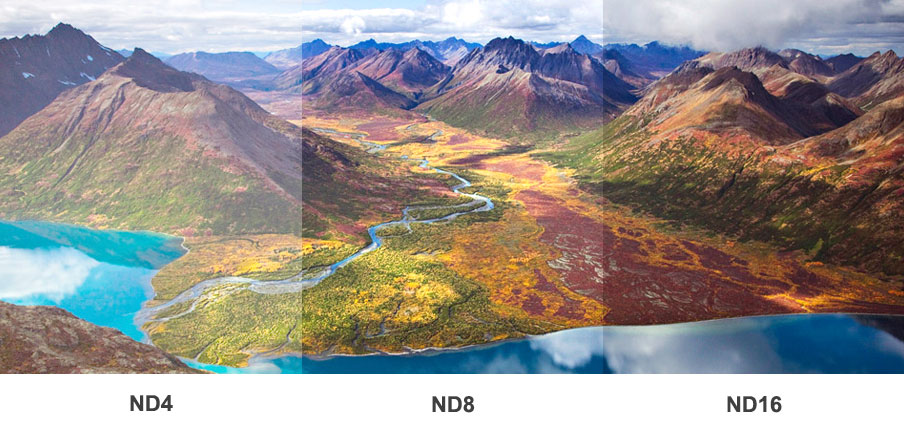 WHAT ND FILTER SHOULD I GO FOR?
ND filters come in different strengths for using in different lighting conditions. The strength of the filter can be determined by its notation. What makes things a little confusing for people is that there's 3 different notation values that can be used to quantify the lens density - "ND1 number", "ND. number" and "ND number". For the purpose of this, we'll keep things simple and just refer to the "ND number" type.
ND number notations start from ND2 and go all the way up to ND100000. The greater the number notation, the more light the filter absorbs. To help you determine which filter strength you need here's a comparison for you:
ND2
ND4
ND8
ND16
ND32
To reduce glare
Use at sunset or sunrise
Use at partly/fully cloudy days
Use during the day with few clouds
Use on extremely bright days
VIDEO SAMPLE WITH AND WITHOUT ND FILTERS
ND4
ND8
ND16
ND32
RECOMMENDED MANUFACTURES
With so many manufactures on the market it's difficult to know which one to choose. DJI produce a varied range of ND filters designed specifically for their premium range drones. As you'd expect with DJI, the lens and build quality is second to none but the price is a lot bit more expensive than other brands. However, don't be put off by the price because many manufactures such as ProFlight deliver the same performance as top brands and are usually better built.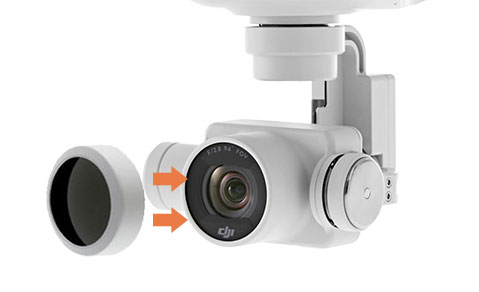 VIEW FULL RANGE OF ND FILTERS »