Product Information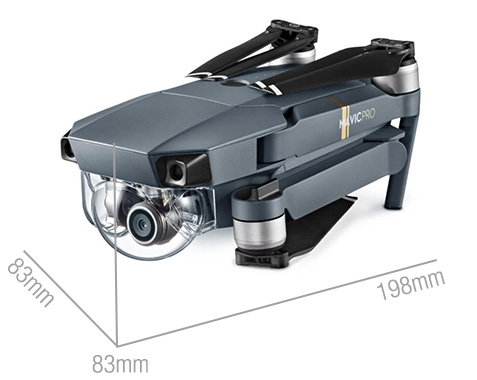 ULTRA COMPACT
Introducing the Mavic Pro, DJI's ultra-compact drone that you can take anywhere your creativity takes you. This foldable drone is small enough to fit into a small backpack yet comes with all the features you'd expect from DJI, including a 4K camera stabilised by a 3-axis gimbal, collision-avoidance technology, automated flight controls and precision hovering. You can even fly up to speeds of 40mph and enjoy extended flight times of 27 minutes.
4K ULTRA HD VIDEO
If you're pretty serious about aerial photography then you'll be pleased to know that the Mavic Pro supports 4K video at 30fps. It also features a miniaturised ultra-precise 3-axis gimbal to ensure you shoot life-like video without any unwanted vibration and movement. The image sensor has been expertly tuned for aerial images so that you can extract the most from every single pixel. You can even flip the camera 90° for portrait oriented shots, just like you do with your phone.
FLY FURTHER FOR LONGER
The Mavic is only 1/6th the size of the Phantom 4 but this reduction in size doesn't mean a reduction in flight time. The Mavic actually flies much longer than you would expect from its compact size. It is capable of reaching an absolute max flight time of 27 minutes and a maximum flying distance of 13km (not range) due to its powerful, high efficiency motors.
NO BUMPS AND SCRAPES
An unprotected drone could hit obstacles during long distance flight or when descending from an inadequate height in Return to Home mode. The Mavic uses FlightAutonomy technology to sense obstacles up to 49ft (15m) away. It can then bypass these obstacles or brake to hover, reducing accidents even when flying beyond visual range.
FLY BY PHONE
Maybe all you want to do is grab a quick dronie, set up tracking to shoot a friend, or even just head skywards for a quick flight. All you need is your phone. Even better the Mavic Pro comes with all the usual smart features that the Phantom 4 has such as TapFly, Waypoints and more.
A NEW CONTROLLER
The new controller that comes with the Mavic Pro is now more refined than ever. The heads up display lets you fly with or without your phone and give you all the vital information you need. It also has the new OcuSync transmittion tech which lets you fly up to 7km away and also switch between 720p or 1080p video downlink!
Key Features:
The DJI Mavic Pro ultimate bundle comes with two extra batteries, an extra set of spare foldable propellers, a car charger, charging hub, powerbank adapter and a leather carry case saving £354!
The DJI Mavic Pro folds down as small as a bottle of water, making it small enough to bring with you everywhere
New OcuSync transmission system offers up to 7km of transmission range
Fly at up to 40mph or for as long as 27-minutes
True 4K, fully stabilized ensures smooth footage
ActiveTrack, TapFly and other smart features make professional looking video effortless
Obstacle Avoidance combined with sensor redundancy increases flight safety and reliability
Vision positioning paired with GPS and GLONASS ensures precise positioning indoor and outdoors
Fly by Phone over Wi-Fi for even easier flight
Whats in the Box?
1 x Mavic Pro Drone
1 x Remote Controller
3 x Intelligent Flight Battery
1 x Charger
1 x Power Cable
5 x Propeller Pairs
1 x RC Cable (Lightning)
1 x RC Cable (Micro USB)
1 x RC Cable (USB Type-C)
1 x Gimbal Cover
1 x Gimbal Clamp
1 x MicroSD Card (16GB)
2 x RC Cable Slider (Large)
2 x RC Cable Slider (Small)
1 x Battery Charging Hub
1 x Car Charger
1 x Battery to Power Bank Adapter
1 x Shoulder Bag