Product Information
This is a graded product. A1 products are "as new" but have been box opened. All A1 products will be fully bubble-wrapped for transportation.
GRADE A1
SHOOT VIDEOS WORTH WATCHING
Film like a pro and capture professional looking steadicam shots straight from your smartphone or action camera with the P3 handheld stabiliser. Engineered with advance 3-axis gimbal stabilization technology, the P3 lets you take ultra-stable videos and silky-smooth photos no matter how much you move it. It's designed to save your viewers the headache of having to watch back any shaky videos ever again.
Simply add your Smartphone or action camera into the P3 and start filming like never before - ideal for mini adventures, epic weekends and everyday use.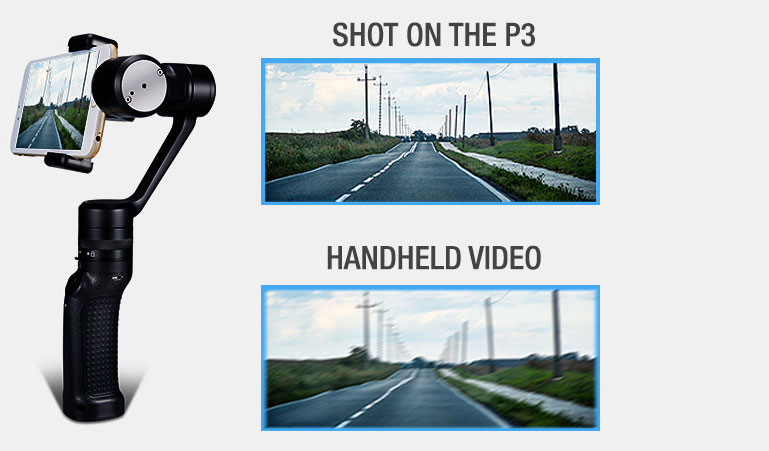 ELECTRONIC STABILISATION
The P3 is designed to eliminate any unwanted movement, shake, and vibration. It features 3 axis stabilisation technology that smoothly counterbalances your hand's every movement so your smartphone or action camera remains perfectly stable. Simple point, shoot and capture professional-looking videos with ease.
POWER IN YOUR PALM
Enjoy complete control from one hand. The ergonomically designed handle puts all controls within easy reach, for maximum comfort and convenience. Use the Joystick to pan, tilt and roll your smartphone/action camera to get the best composition for your shots.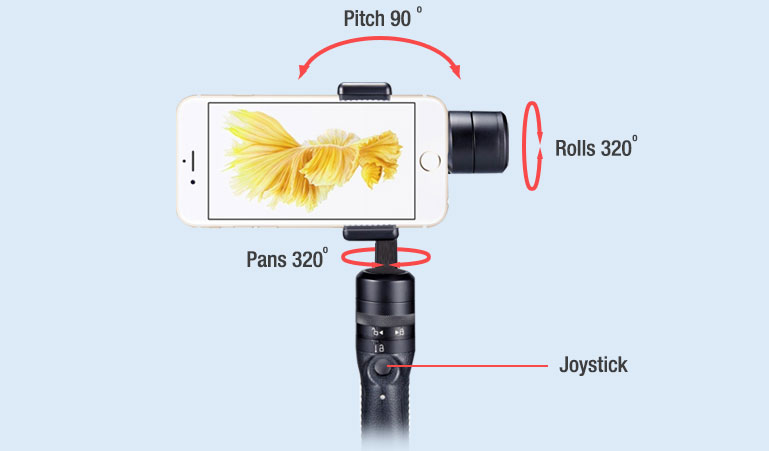 Key Features
Shoot ultra-smooth footage right from your Smartphone or action camera (including GoPro)
Perfect for amateur film makers and extreme sports enthusiasts
Padded hand grip for secure and comfortable filming
Compatible with most 4.7 - 5.5" screen Smartphones including iPhone 5S, 6 and 7.
Rotatable axis for added flexibility and freedom - great for panoramic shots
Impressive battery - Up to 5 hours
Ergonomic thumb joystick control
What's included:
1 x P3 Gimbal
1 x USB Cable
1 x Charger