Product Information
This is a graded product. A1 products are "as new" but have been box opened. All A1 products will be fully bubble-wrapped for transportation.
GRADE A1
The Phantom 4, DJI's smartest flying camera, has got even smarter.
Introducing the DJI Phantom 4 Pro – the ultimate drone for photography, videography and much more.
Boasting an uprated 20MP camera, up to 60fps 4K recording, 5 way obstacle detection technology and many more incredible new features, the DJI Phantom 4 Pro can handle any situation to help you achieve those stunning shots.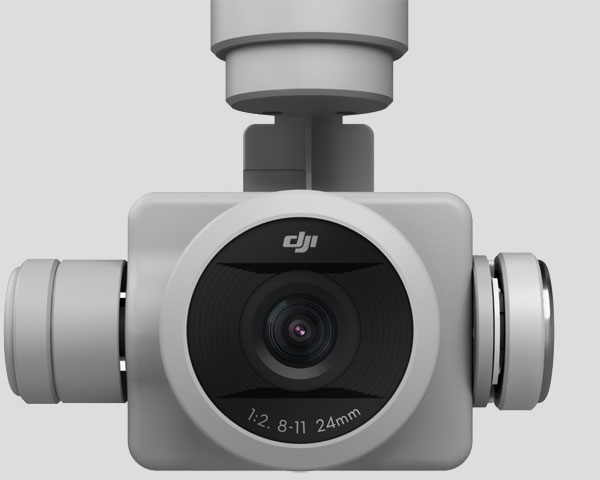 INCREASED CAMERA POWER
The Phantom 4 Pro features a 4K/20MP 1-inch CMOS sensor offering improved high dynamic range, signal-to-noise ratio and low light performance to deliver incredible quality photos and videos. With a high contrast ISO of 12800, images are good enough to be used immediately while also capturing enough detail for advanced post processing.
60FPS 4K VIDEO
An enhanced video processing setup allows the capture of video in cinema and production optimised DCI 4K/60 fps. Coupled with the aerial optimised F2.8 wide-angle lens with an equivalent focal length of 24mm, all your shots will be consistently detailed, sharp and silver screen ready.
MECHANICAL SHUTTER
The P4 Pro is the first drone from DJI to feature a mechanical shutter. With a shutter speed of up to 1/2000s capable of shooting 14fps in Burst Mode at 20MP, rolling shutter distortion is eliminated therefore creating brilliant results.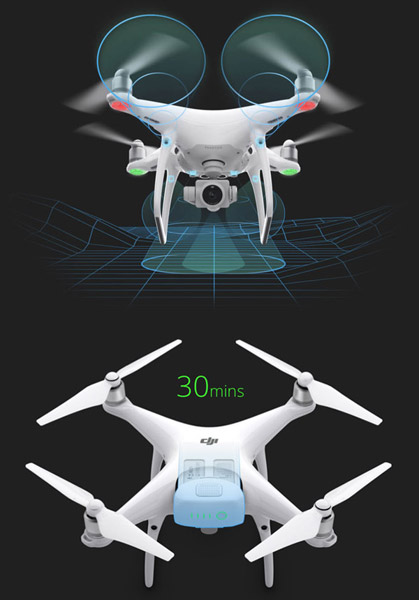 ENHANCED OBSTACLE SENSING
The additional intelligent obstacle sensing and avoidance systems use smart mapping technologies including Stereo Vision and infrared sensors to give the Phantom 4 Pro the ability to detect obstacles from 30 metres ahead. Five directions of obstacle sensing now makes the Phantom 4 Pro fully aware of its surroundings ahead, behind, below and to its sides. This allows the Phantom 4 Pro to develop a real-time view of its environment and locate itself exactly.
EXTENDED FLYING
An extended maximum flight time of 30 minutes ultimately gives you the ability to spend more time when it comes to finding that perfect shot.
Stay in control with the dedicated DJI GO app which provides live battery statuses including remaining lifetime and predicts the remaining flying time according to the distance it has travelled.
NEW REMOTE TRANSMISSION SYSTEMS
The brand new DJI Lightbridge HD video transmission technology gives you an incredible maximum transmission range of 4.3 miles. By scanning a range of available frequencies before each flight, the Phantom 4 Pro finds the one with the least interference so you have a smooth flight. Supporting 2.4GHz and 5.8GHz frequency bands, you always have reliable control.

SMART FLYING
The Phantom 4 Pro has built on the ground breaking flight modes of the original Phantom 4 by adding two new flight modes to make it easier to get the shots you want.
DRAW MODE
Simply draw a line using the DJI GO app and the Phantom 4 Pro will follow that path, keeping the same altitude along the way. This is a great feature that enables you to control the camera, finding the perfect or more complex shots without the worry of controlling the drone.
There are two draw modes which can be used to suit different scenarios.
Standard: The aircraft flies at a constant speed with the camera facing forward.
Free: As the drone follows the path you can freely aim the drone camera where you need.
GESTURE MODE
Take the ultimate selfie or capture that extra special moment using Gesture Mode. Put the remote control out of sight and operate the Phantom 4 Pro by gesturing towards the camera. Raise your arms and the drone will lock onto you, keeping you central. Hold your arms out to begin a three-second countdown, giving you time to strike a pose.
Features
Five direction collision avoidance (forward, backward, sideways and below)
Four groundbreaking smart flight modes - Draw Mode, Active Track, Tap Fly and Gesture Mode
New transmission system for greater in flight reliability
Upgraded flight time up to 30 minutes
New 20 megapixel 1" CMOS sensor camera with mechanical shutter - DJI's first!
Can shoot 4K video at up to 60fps at 100mbs bit rate
Dual compasses and IMU modules for unparalelled reliability