Product Information
This is a graded product. A1 products are "as new" but have been box opened. All A1 products will be fully bubble-wrapped for transportation.
GRADE A1
POWER IN YOUR PALM
Introducing DJI's Osmo - the first camera designed to create ultra-stable photos and videos in any condition. The Osmo is precisely engineered to ergonomically fit in the palm of your hand and offers conveniently positioned buttons and controls within easy range of your thumb and fingers. There's even a phone holder for you put your smartphone in so you can see what your camera sees in real time. Your Smartphone can be used to control your camera settings and shooting modes.
CAPTURE THE DETAIL
Capture the world as you see it with Osmo's Zenmuse X3 camera. This small, lightweight camera is capable of shooting video at up to 4Kp30 or 1080p60 and takes crisp, clear 12 megapixel stills. It works as one with DJI's advanced 3-axis gimbal system to ensure the camera remains completely stable no matter how you move.
CAPTURE THE SOUND
Quality pictures are just half the story, that's why the Osmo features an integrated microphone to record the audio too. There's even a standard 3.5mm port so you can plug in your own microphone if required.

THE WORLD IN 360°
Immerse yourself in your environment and capture the whole scene with this unique shooting mode. Hold the Osmo up above your head, tap the shutter button and the camera will automatically pan around 360 degrees, taking and stitching overlapping photos to create a panorama.

CAPTURE TIME
See the world in slow motion and record a passage of time at 120 frames-per-second (fps) up to 1080p. Whether standing still and looking up at the stars, or moving through the hustle and bustle of your city, you can create super smooth videos automatically and easily without a tripod.

TRIPOD-FREE LONG-EXPOSURES
Let your inspiration soar and take long exposure shots with absolute crispness and sharpness, even without a tripod. Take freehand stills of up to 2 seconds and capture stunning night cityscapes, or firework/light displays like nothing before.
ADVANCED STABILISATION
Eliminate the shake and enjoy the same three-axis stabilisation technology utilised in DJI's advanced drones with the Osmo. This is the first time this technology is available in a camera you can hold. The 3-axis completely eliminates any hand shake or wobble, so you can concentrate on creating ultra-smooth cinematic shots with ease.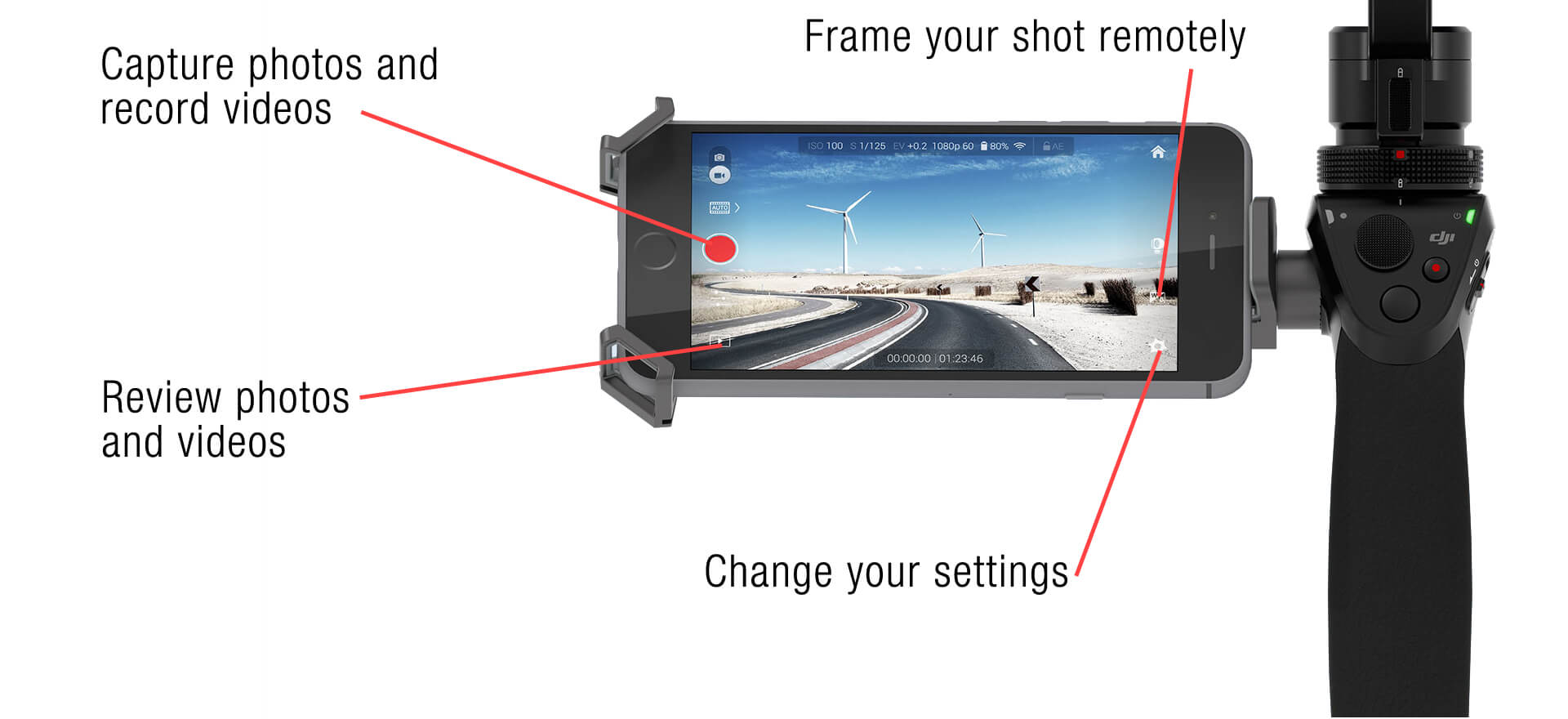 REMOTE CONTROL
Enjoy complete control of your camera settings by remote control from within the DJI Go app on your mobile device. Mount the Osmo on a tripod, or any of the other available mounts, and take a few steps back to a position from where you can easily overlook the scene and control the camera remotely from there.
Features:
Free Delivery & 2 Extra Batteries worth £60!
Fully stabilized 4K, 12MP camera optimized for ground use
Slow motion and audio recording
Tripod-free long exposures
Remote camera control
Secure grip
6-hour standby time
1 hour of video shooting