Product Information
THE BEST OF BOTH WORLDS
At first glance, the Ripmax Transition may appear to look like a conventional radio controlled aeroplane, but the moment you take flight of it you'll soon realise it's anything but conventional. This one of a kind aircraft can take off and land vertically like a helicopter but fly like a plane - it's designed for those pilots looking for a truly unique flying experience.

THE WORLD IS YOUR LAUNCH PAD
Unlike traditional planes that require a super-long runway for taking off and landing, the Ripmax transition boasts vertical take-off and landing capabilities (VTOL) so you can take to the air from practically anywhere.
FULL 90° TILT ROTOR
Once airborne, at the flip of a switch, you'll be able to gently rotate the motor pods through 90 degrees to transition your ripmax into forward flight mode and out of the hover. Flick the switch back to 'hover' mode and the ripmax reverts back to hovering. It is that simple.
THE SKY's THE LIMIT
With the motor pods tilted all the way forward, the Ripmax transmission can reach some impressive speeds and presents a unique challenge for experienced pilots but a captivating sight in the air.
The electronics of the flight controller are there to make everything easier and the key to the amazing performance. The flight controller uses multiple gyros to stabilize in the hover by varying the motors and in forward flight using the elevons. The flight controller is the interface between the receiver and the four speed controllers.
The airframe itself is made from moulded EPO foam and minimal work required to finish. The whole airframe is re-enforced with carbon fibre to handle the loads of four motors at the wingtips. This RTF version is supplied with a 6 channel, 2.4GHz radio and a 4 cell 1300mAh 30C Li-po plus charger to make her flight ready in less than 30 minutes.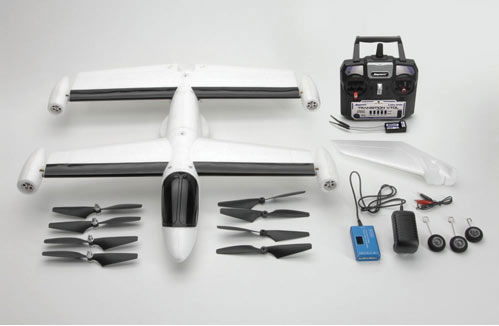 Features:
Easily transition between hovering and forward flight at the flick of a switch!
Unique rotating motor pods on the wingtips
Transform between flying a quad-copter drone or model airplane
Air frame made from moulded EPO foam and minimal work required to finish
Qhole air frame is re-enforced with carbon fibre
Indludes:
6 channel, 2.4GHz radio controller
4 cell 1300mAh 30C Li-po plus charger
Specification:
Wingspan: 695mm (27.4")
Length: 846mm (33.3")
Weight: 880g
Servos: 1 x 17g Metal Gear, 2 x 9g (Inc.)
Radio System: 6 Channel 2.4GHz (Inc)
Electric Motor: 4 x 2730 Brushless Outrunner (Inc.)
Speed Controller: 4 x 12A Brushless (Inc.)
LiPo: 4S1P 14.8v 1300mAh 30C (Inc)
Charger: Included
Please note: This model is intended for Experienced Pilots. If you have not flown an RC model before you will need to learn. Flying any model aircraft requires some degree of care and skill, even the simplest 2 or 3 channel. We recommend you read the manufacturers instructions and prepare for your first flight. There are many useful guides to learning to fly RC aircraft and if you are still unsure help will be readily available at your local club. We recommend a range test before you fly. Your model will have a warranty but this will not cover damage to propellers, wings, fuselage, tail or any other part sustained due to pilot error or loss of transmitter signal.