Product Information
READY FOR ACTION
Whether you just want to fly for fun or record some serious aerial footage, ProFlight's Ranger drone is designed with you and your budget in mind. This striking yellow and black drone is likely to scare off other potential drones with it's power and prowess, but don't worry it won't come with a sting in its tail.
YOUR CAMERA, YOUR CREATIVITY
The Ranger features a built-in mount that lets you attach any action camera to record and capture your flight videos. The mount is perfectly sized to securely fit a wide range of action cameras including all GoPro Hero models.
This model comes bundled with a 4K UHD Action camera to let you relive the moment again and again in life-like detail. It's capable of 4K recording at 30fps and full HD at 60fps.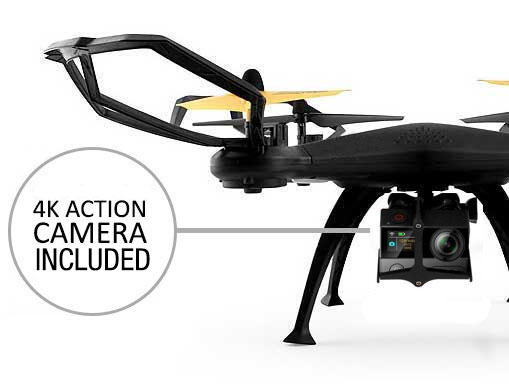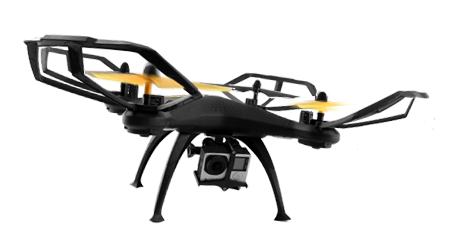 POWERFUL AND PRECISE
The Ranger is one of our most popular large scale drones. Thanks to it's size, you'll be able to fly the drone outdoors without any issues. The powerful, high-speed propellers and 6-Axis stabilisation system combine to ensure the drone glides through the air extremely smooth for you - perfect for flying in the UK's unpredictable weather or taking steady video footage with an action camera. Plus, the Ranger drone is powered by a large capacity battery that provides an impressive flight time of up to 10 minutes from one single charge.
EFFORTLESS CONTROL
The Proflight Ranger comes with an intuitive controller to help you stay in command of this powerful, incredibly agile drone up to a 100m distance. It's specially designed so that all the buttons are within reach of your fingertips so you can fly the way you want with ease.
To help you put the drone through its paces the remote control offers varying sensitivity levels. For novice pilots you can set the remote to a less responsive setting making it easier to control. For the more confident, ambitious pilots out there you can increase the sensitivity to give you more accurate control of the drone and execute complex stunts.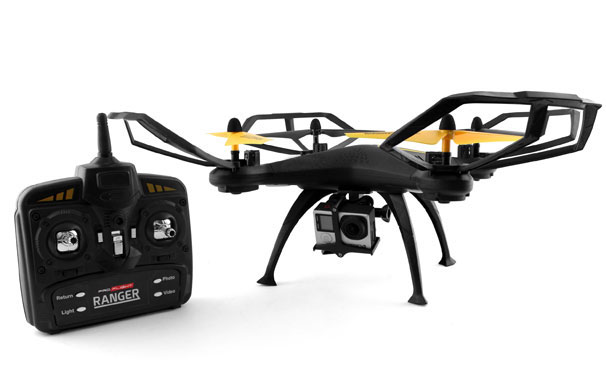 Features
Bundled with our IQ true 4k action camera
Most affordable GoPro style drone
Great for outdoors
Ideal for capturing trips
Really powerful
Ready to fly
Note: This version of the Ranger does not include a Go-Pro camera or a mobile phone mount for the controller. The images on the box are for illustration only.
Note: Not to be flown in windy conditions