Product Information
THE SMART DRONE
The 3DR Solo is the ultimate smart drone for all your aerial needs. With a smart battery, PixHawk flight controller, LED directional lights, Self tightening glass nylon props, Onboard 1GHz CPU, Live HD video feed, 3 axis gimbal, and an accessory bay, there is no doubt that the 3DR Solo has everything you need for a fantastic, out of the box experience.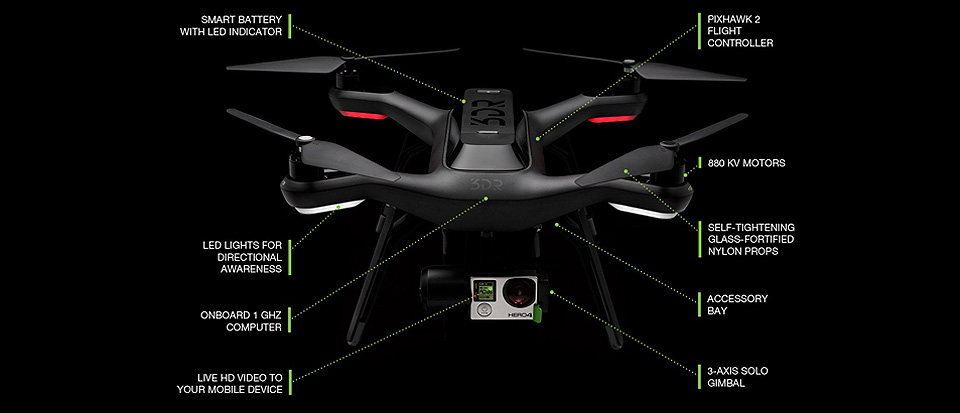 EFFORTLESS DRONE FLIGHT
The Solo's video game-style controller will feel familiar the second you pick it up, even if you've never flown a drone in your life! Pushbutton commands put both camera and copter at your fingertips. Take off, land or instantly pause your flight midair with a single touch. Click to start and stop recording or snap a photo, you can even adjust camera angle while you fly. How simple is that?
MADE FOR GO
By working directly with GoPro, 3DR have made the Solo to be the first drone to offer complete control of your HERO4® camera during flight. The new 3-axis gimbal delivers fluid HD video streamed directly to your mobile device, offers in-flight recording control and access to GoPro settings—and oh yeah, it powers your GoPro, too.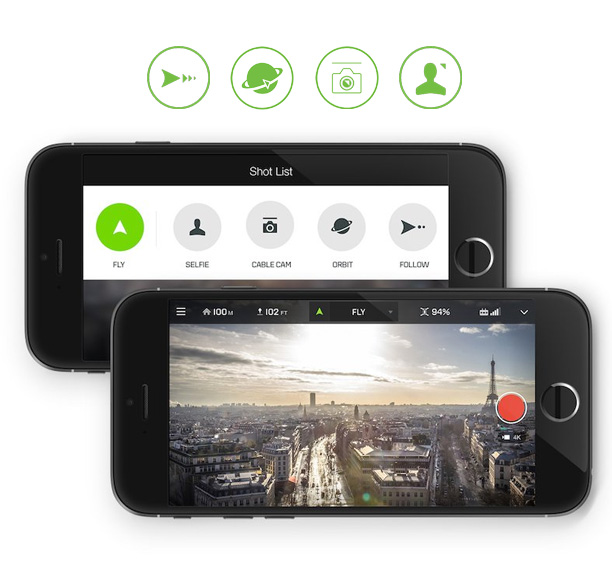 PRO-GRAMMED SHOTS
The 3DR Solo comes pre programmed with flight paths to enable you to get the perfect shot every time. With shots such as Cable Cam or Selfie, the drone will automatically position itself, fly itself, and film the perfect shot, all while you stand and watch.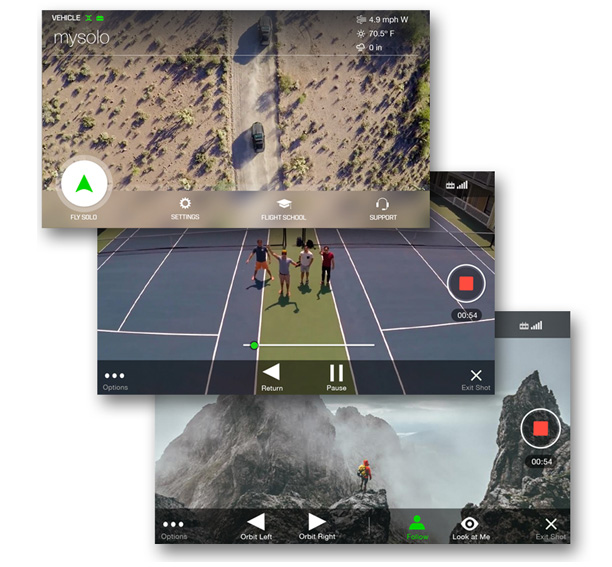 FOR SMART PHONE
The robust new Solo app (for iOS and Android) makes it easy to get the most out of Solo's smart features. Stream live video to your mobile device and enjoy sophisticated camera and copter control, often with the push of a button.
Features:
Free Delivery, 3DR Gimbal & Extra Intelligent Battery Saving Over £30 Compared To When Bought Seperately
The first drone with a brain, Solo is powered by twin computers.
Only drone to stream live HD video from GoPro® direct to iOS/Android devices.
Solo Gimbal delivers smooth footage, GoPro® power and control and HDMI video.
Revolutionary, intuitive video game-style controller.
Take to the air in seconds with effortless pushbutton flight.
Powerful Smart Shot technology makes capturing incredible cinematic footage easy and automatic.
Unique safety features like pause and "safety net" mean you can fly with confidence.
First with in-flight GoPro® access: Start/stop recording and adjust camera settings from the ground (with Solo Gimbal).
Full-featured app for iOS and Android puts total craft control at your fingertips.
Follow Me mode enables Solo to automatically track and film any subject.
Future-proof accessory and gimbal bays make Solo ready for tomorrow's technology.
Free software and feature updates ensure your Solo evolves at the pace of innovation.
The smart drone keeps getting smarter: LiDAR for super stable indoor flight; ballistic parachute system; flight rewind and more, all scheduled for release.
World-class customer support means we've always got your back: live six-day-a-week phone support from qualified engineers; in-app service tickets; and a 30-day money-back guarantee.
What's in the box?
1 x 3DR Solo Drone.
1 x 3DR Solo GoPro Gimbal
1 x Controller.
2 x Batteries.
1 x Drone charger with UK plug.
1 x Controller charger with UK plug.
6 x Replacement Propellers.
1 x Manual.