Dual-camera imaging system
The medium tele camera and wide-angle camera complement each other, which not only shows background ambience, but also facilitates aerial photography storytelling, providing a new way of expression.
Normal Video Mode
SHigh resolution improves footage clarity and provides space for cropping in post-production. High frame rate delivers smooth and fluid camera view, and supports recording slow-motion video as well. Recording video with 4K/60fps HDR enriches highlight and shadow details to present richer visual information, achieving a look that is quite close to what is seen by the human eye. The 10-bit D-Log M color mode provides advanced users with sufficient space for editing in post-production.
Night Mode
In low-light environments or at night, with the noise reduction algorithm, footage can be captured more clearly than footage captured in normal video mode.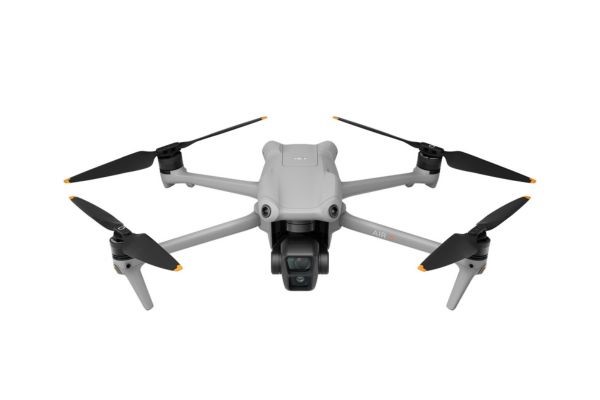 Slow Motion
Both cameras support shooting up to 4x slow-motion video at 4K/100fps. Whether the subject is a person, animal, vehicle, or waterfall, the dynamic beauty can be fully expressed.
Photo Mode
Single Shot uses the more intelligent SmartPhoto 3.0 that can automatically select the suitable mode among stack shot, Hyperlight, and scene recognition. SmartPhoto 3.0 adopts a new generation of photo-taking algorithm, supports HDR DNG, and has larger dynamic range and built-in contrast enhancement. Using Photoshop to open an image file results in JPG-level quality, which reduces the difficulty of post-production for beginner users and ensures more natural colors for more vivid results.
Panorama
Lossless panorama photos can be obtained without post-production.
Hyperlapse
Hyperlapse using the medium tele camera has been added to make subjects more prominent, footage more focused, and the sense of compression stronger. The waiting time for image synthesis in the air has been greatly reduced for a smoother experience.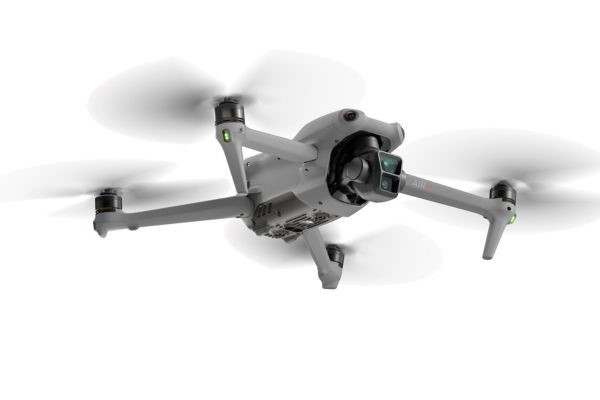 Omnidirectional Obstacle Sensing
Compared with DJI Air 2S, DJI Air 3 achieves a dual-fisheye sensing system on both the left side and the right side to achieve omnidirectional obstacle sensing, providing comprehensive protection during flight.
APAS 5.0
APAS is supported in all directions to quickly identify and bypass obstacles, ensuring easy and smooth flight. During the creative process, the omnidirectional obstacle sensing system of DJI Air 3 can greatly reduce safety concerns, allowing you to focus more on creation and shoot smooth footage, even in complex environments.
FocusTrack
Select a subject, and the drone will keep tracking the subject, freeing your hands. You can select from Circle and Parallel modes to let the drone complete the camera movement automatically and output the footage quickly and intelligently.
Advanced RTH
With the upgraded powerful algorithm, the drone can scan its surroundings to achieve real-time mapping during each flight. In daytime environments with sufficient light, whether you actively select RTH or the drone automatically returns after video transmission is disconnected, the drone can automatically select the optimal route while ensuring flight safety, and fly back to the home point intelligently and quickly.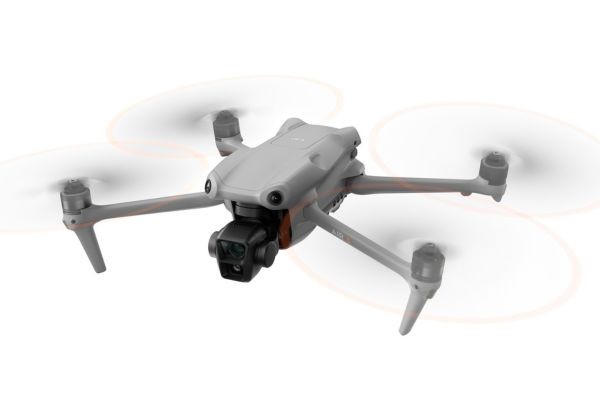 MasterShots
This feature allows the drone to automatically and quickly shoot high-quality video clips, edit the clips, add music, and generate cinematic videos for users to share directly.
QuickShots
QuickShots for the medium tele camera has been added. This feature provides multiple modes, including Rocket, Dronie, Circle, Helix, Boomerang, and Asteroid (Asteroid is not supported with the medium tele camera).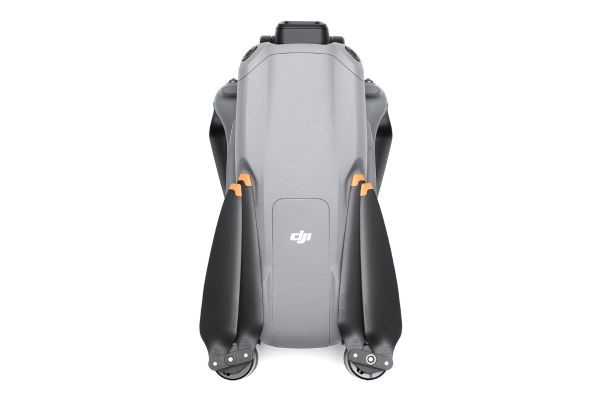 Cruise Control
This is a basic feature that can assist flight in the following ways:
During long-distance flight, users do not need to keep pushing the control stick.
When shooting orbit, forward, or backward footage, locking the flight speed and direction produces a smoother effect.
When shooting orbit footage, users can also increase the control stick input to fly upward in a spiral.
Waypoint Flight
This feature allows the drone to perform automatic flight. Users can preset several waypoints and the drone will automatically fly along them. During flight, the drone can also implement preset and highly customizable actions. Users can also save the flight route for repeated flights.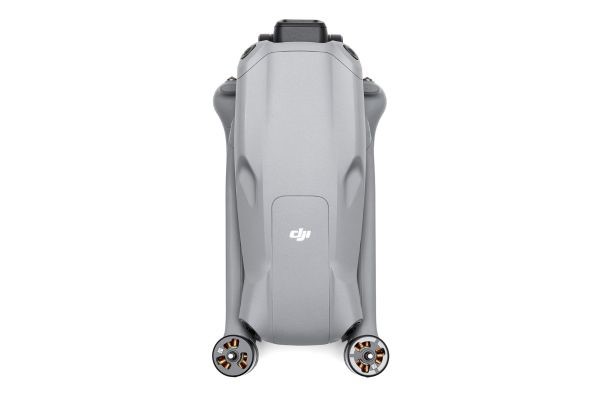 Intelligent Editing
Through algorithms, LightCut intelligently recognizes, cuts, and selects highlight moments and automatically matches appropriate templates and sound effects, helping users create impressive videos intelligently and effortlessly.
One-Tap Effect Applying
Enjoy incredible effects that make your shot look miniature and toy-like with just one tap. Apply this feature to DJI Air 3's 3x medium tele camera for even better results.
Flight Time
The flight time (forward flight time) of DJI Air 3 is 48% longer than that of DJI Air 2S, providing more freedom to unleash creativity.
O4 Video Transmission
Video transmission is the only link between the user and the drone during flight, and DJI Air 3 has a comprehensive video transmission system. DJI Air 3 features enhanced anti-interference capabilities for video transmission. When the drone is flying long distances, at a low altitude, or through/around obstacles, the video transmission signal can be more stable and reliable, and the flight experience will be improved. In addition, during composition and camera movement, a smooth, real-time camera view of 60fps can achieve a visual effect close to what is seen by the human eye.
Note: DJI Air 3 does not support close-range Wi-Fi video transmission.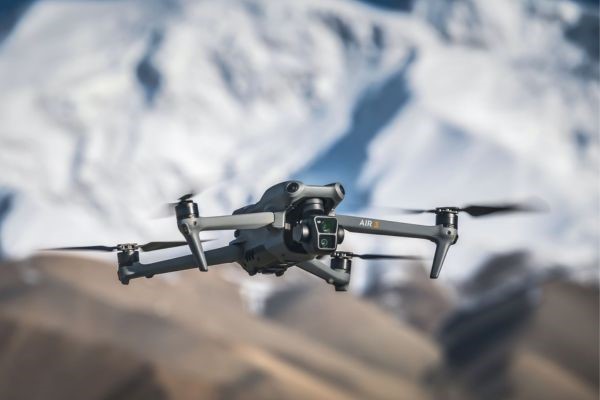 Storage
DJI Air 3 has an internal storage of 8 GB, and a microSD card can be inserted to store photos and videos.
QuickTransfer
Without linking the remote controller, users can quickly and directly transfer footage stored in the aircraft to a smartphone through Wi-Fi 5, making it more convenient to store, edit, and share captured videos by smartphone.
Battery Charging Hub
The battery charging hub can quickly charge up to three batteries in sequence, facilitating more effortless and efficient charging. With the power accumulation function, the battery charging hub can transfer the remaining power of the batteries that cannot support flying and shooting to other batteries, making full use of battery power.
What's In the Box
1 x DJI Air 3
6 x DJI Air 3 Low-Noise Propellers (Pair)
1 x DJI Air 3 Gimbal Protector
1 x DJI RC 2
1 x DJI Air 3 Battery Charging Hub
1 x USB-C Cable
1 x DJI Air 3 Intelligent Flight Battery
1 x Documents (Quick Start Guide and Disclaimer)
1 x DJI Shoulder Bag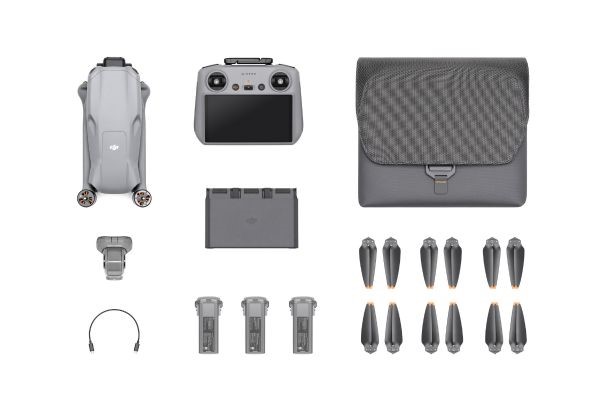 Key Differences
DJI Air 3
DJI Air 2
Weight
Approx 720g
Approx 595g
Camera
1/1.3" CMOS wide-angle

1/1.3" CMOS 3x medium tele camera

1" CMOS
Camera Spec
48MP / 4K @ 100fps
20MP / 5.4K @ 30fps
Flight Time
Up to 46 minutes
Up to 31 minutes
Max Transmission
20km (1080p/60fps)
12km (1080p/30fps)
Obstacle Sensing
Omnidirectional Obstacle Sensing
Obstacle sensing in 4 directions
Waypoint Feature
Yes: Plan/save flight routes
No
Remote Controller
RC 2/RC-N2 (New for 2023)
RC
As this drone weighs more than 250g, you will be required to pass the CAA's online theory test to get a Flyer ID. This is free and can be taken as many times as you need to. You can find the test here. You will also need to register for an Operator ID, which can be done at the same time as taking the test.