Product Information
CINEMATIC MADE SIMPLE
Capture professional looking footage effortlessly from your smartphone with DJI's Osmo mobile. It turns you smartphone into a intelligent, precision camera system, making every moment you shoot look smooth, professional and ready to share. It also offers a variety of features including long exposure, panorama and time-lapse mode to help bring out your inner Spielberg.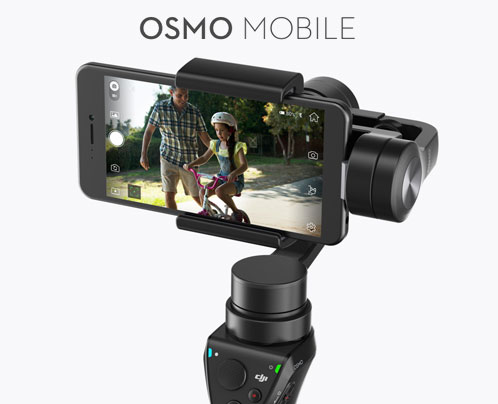 BE IN THE MOMENT
Thanks to DJI's ActiveTrack technology you create perfectly framed shots of moving subjects with a simple tap of the screen. Just highlight an area on your screen and the OSMO will automatically track it smoothly, even while the camera is moving. You no longer have to choose between directing a shot or taking part in it - do both!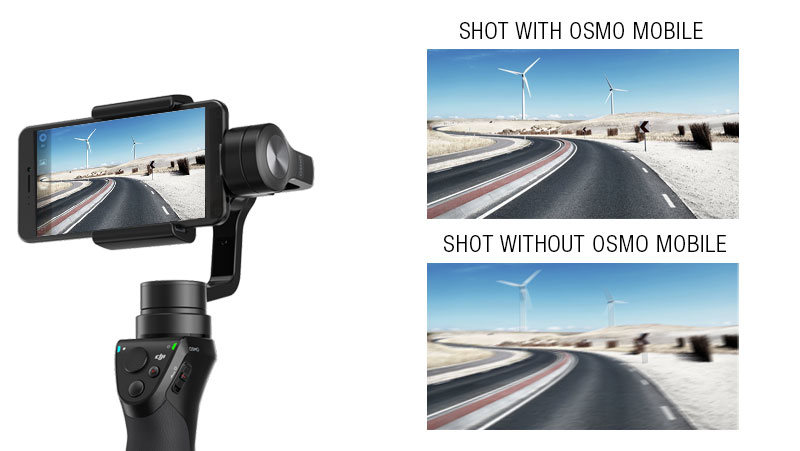 EFFORTLESSLY SMOOTH
Record videos worth watching and enjoy stunningly smooth clips on your smartphone. Osmo Mobile features DJI's signature three-axis gimbal stabilisation and SmoothTrack™ technology to help eliminate any unwanted hand shake or wobble, keeping your smartphone perfectly stable, so you can turn every shot into a cinematic video.
POWER IN YOUR PALM
The Osmo mobile is precisely engineered to ergonomically fit in the palm of your hand. It offers a range of dedicated buttons for you to control your phone camera like a professional camera. Everything is conveniently positioned within easy range of your thumb and fingers. Control sensitivity, invert pan or tilt, or even set it so that the gimbal can only move in specific directions. Your Smartphone can also be used to control your camera settings and shooting modes.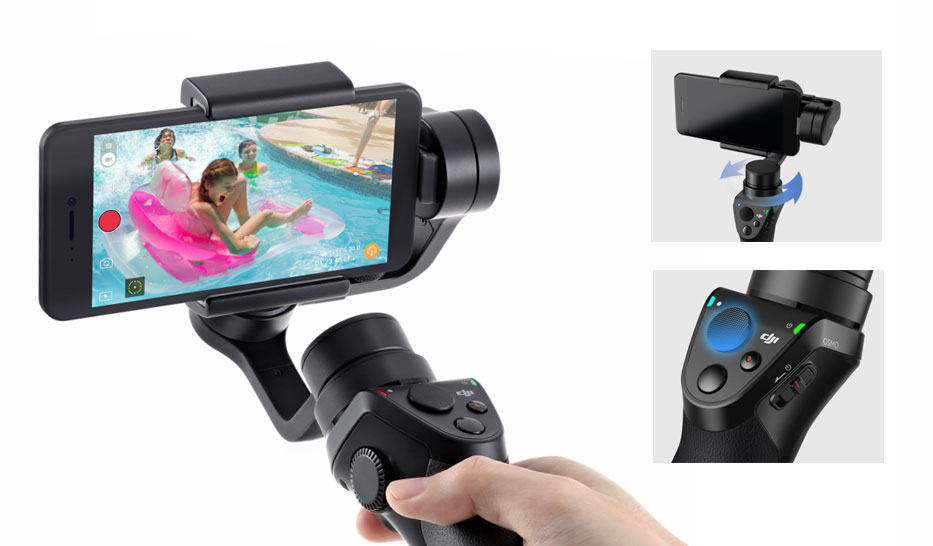 DETAILED PANORAMA
Go beyond the screen and immerse yourself in the whole scene with the Osmo mobile panorama function. This unique shooting mode automatically captures and blends the multiple photos together to create one stunning panorama.

CAPTURE TIME
Shoot the world in slow motion and record awe inspiring passages of time without any additional specialist equipment. Simply mark where you want the camera movement to start and end and shoot.

TRIPOD-FREE LONG-EXPOSURES
Let your inspiration soar and take long 1 second long exposures with absolute crispness and sharpness, even without a tripod. Capture stunning night cityscapes, or firework/light displays like nothing before.
Features:
ActiveTrack technology built into the DJI GO app allows the Osmo Mobile to automatically keep your smartphone facing you as you move.
The Osmo Mobile's 3-axis gimbal system smooths out the movements you make, turning every shot into cinematic video.
Shoot better photos in low light, with powerful camera stabilization and full manual camera control.
The Osmo Mobile's panorama function automatically captures and blends 9 separate photos together to create one stunning photo.
Used with its range of accessories, the Osmo Mobile can be mounted almost anywhere, giving you even more opportunities to get that perfect shot.
Compatible with any Android or iOS smartphone with a width between 2.31 and 3.34 inches.