Product Information
LIGHTWEIGHT AND COMPACT DESIGN, BUILT TO LAST.
This lightweight and compact drone boasts a range of improvements over its impressive predecessor. The BeBop 2 includes all-new shock proof, flexible arms as well as a fully redesigned base that helps with strengthening the drone and cooling the digital image processors. It also features moulded foam feet for softer landings and larger, more flexible 6" propellers which are finely tuned to give the BeBop 2 incredible thrust and power.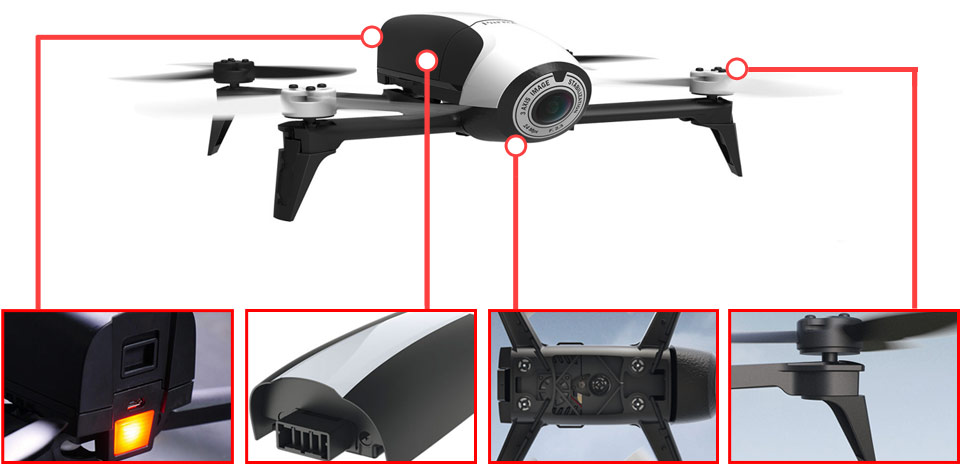 REAR FLASH LED
Powerful rear flash LED for better visibility
INCREASED BATTERY LIFE
25 minutes of flight time with 2700 mAh battery
REINFORCED STRUCTURE
Robust and flexible central body with reinforced single arms
FLEXIBLE PROPELLERS
Designed with safety in mind: flexible propellers which lock in the event of contact
BRAND NEW LENS
Designed from the ground up, the new BeBop 2 camera improves sharpness, gives a much better viewing angle, and most importantly now lets you film vertically at 90°! All of this is possible thanks to the new mounting position of the camera as well as the new 180° fish eye lens. This package lets you film all of your footage in FULL HD or even take Raw 14 Megapixel photos which look stunning.
DOUBLE THE FUN!
The new and improved BeBop 2 comes with a variety of new features to make it one of the very best drones to buy! First and most importantly the BeBop 2's battery life has doubled from 12 minutes to a whopping 25 minutes! That's more time enjoying flying and less time waiting for the batteries to charge. The BeBop 2 now also has a rear LED indicator to show battery status and other notification signals.
EASY TO PILOT
The Parrot BeBop 2 is just as easy to fly thanks to the simple and easy to use app available for Android and iOS. You can fly using the on screen controls, return to home, take photos or start/stop shooting video all at the press of a button.
Features:
Up to a huge 25 minutes flight time.
Fully equipped with everything you need to fly.
Smart, intuitive control via your tablet or phone (Android & iOS)
Lightweight and remarkably safe to pilot.
14 Megapixel 1080p 180° fish eye camera.
Full image stabilisation for remarkably stable photos & videos.
Return to take off point at the tap of a button..
Safe to pilot indoors or out.
Easy to disassemble or repair with spare parts.
Great stepping stone up from cheaper drones.
What's in the box?
1 x Bebop Drone 2
1 x 2700 mAh battery
1 x Charger + cable + UK adapter
1 x USB cable
8 x Propellers
4 x Replacement Propellers.
1 x Propeller assembly tool.
1 x Quick start guide.