Product Information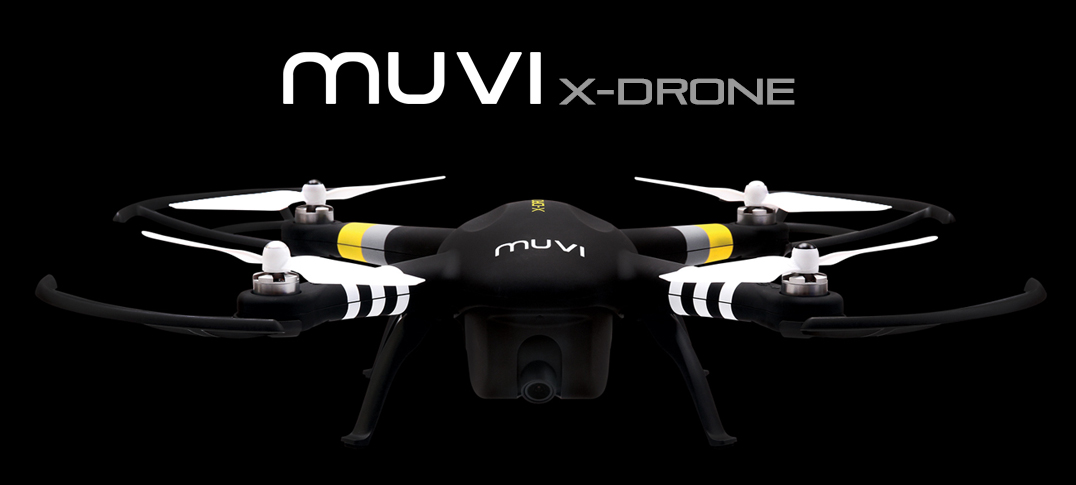 The Muvi X-Drone is incredibly easy to fly, and comes with everything you need to get started. So whether you're a first time flyer or a professional, the X-Drone is the perfect aerial camera system for any camera enthusiast with little or no prior experience.
GPS Tracking
The advanced GPS system now makes it even easier to fly your X-Drone, the GPS allows you to maintain altitude and orientation to allow you to focus on filming, and the automatic flight control system, means that if you lose control or satellite signal, the X-Drone will return itself to its launch point and then land itself safely.
Smartphone Connection
Using the smartphone cradle, you can live view from the X-Drone directly to your smartphone screen. Record videos or capture photo's directly from X-Drone thanks to the free APP that's available on iOS or Android. The APP can also be used for live streaming, so you can see what the Muvi camera on-board the X-Drone sees. The APP will also allow you to check the status of the Wi-Fi, battery and also make changes to the settings of your X-Drone.
The X-Drone also comes with a pre-paired, USB rechargeable smartphone range extender, which increases the connectivity between the X-Drone and the smartphone up to 300 metres; you can make sure that you are always in range when connected to the live view screen on your smartphone APP.
High-Quality Camera
The X-Drone has a built-in Muvi camera that produces high quality HD 1080p videos at 30fps or 720p at 60fps. The Muvi camera on the X-Drone can also take stunning 16 mega pixel still images. The camera has image and video stabilization, which will allow you shoot smooth high quality videos, from an aerial point of view.
Features:
Incredubly easy and ready to fly in minutes
Perfect for beginners or experienced flyers
Full HD 1080p video at 30fps
Still photography at 16megapixels captured onto a built-in microSD card reader
Large 5,300mAh removable and rechargeable Li-Po battery allowing up to 25 minutes flight time
Battery status indicator
Free Wi-Fi iOS or Android APP to allow live-view streaming and remote recording
Smartphone range extender allows streaming up to 300m
Advanced GPS system allowing you to maintain altitude and orientation with flight control for automatic return to home and landing
Tech Specs:
X-Drone
Battery X-Drone5300 mAh LiPo
Weight 1.4kg/3.09lbs
Hover accuracy Horizontal: 2.5m – 8.2ft/s - vertical: 0.8m – 2.62ft
Maximum tilt angle 30°
Maximum climb/descent speed Climb: 6m/s – 19.69ft/s - Descend: 4m/s – 13.12ft/s
Maximum flight speed 20m/s – 65.62ft/s (not recommended)
Wheelbase 450mm/1.48ft
Flight time 20 minutes
Camera
Ambient operating temperature 0-50°C/32-122°F
Sensor size 1/2.3
Photo resolution 16 mega pixels
Video resolution Full HD 1080p
Frame rate 25, 48, 50 or 100 (dependant on PAL or NTSC setting)
Video recording format MOV (H.264 codec)
Remote Control
Data transfer distance 500m (1640ft)
Battery life 8 hours
Operating current/voltage 150mA/6V
Battery 4 x AA batteries
Smartphone Range Extender
Operating frequency 2.4GHz
Communication distance (open field) 300m/948ft
Transmitting power <=17dBm
Power consumption 1.5W
What's In The Box:
X-Drone
Controller
Propellers
Propellers
Smartphone Range Extender
Smartphone Mount
X-Drone Battery
Battery Charger
Battery Charger
Screw Set
Controller Strap
User Manual