Product Information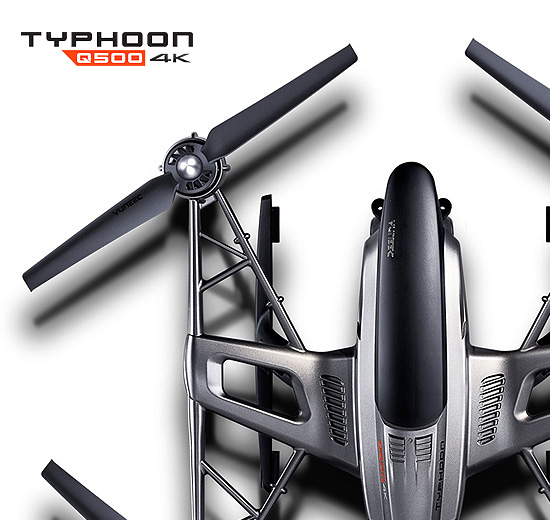 CAPTURE THE FUTURE
The Yuneec Typhoon Q500 4K is the next step in aerial and ground cinematography thanks to its amazing Ultra HD 4K camera, its ultra steady 3-axis gimbal, the Steady Grip hand camera mount, its massive 25 minute flight time as well as its all in one controller. Not only that but the entire Typhoon package is ready to fly in under 2 minutes allowing you to always be ready to capture the action!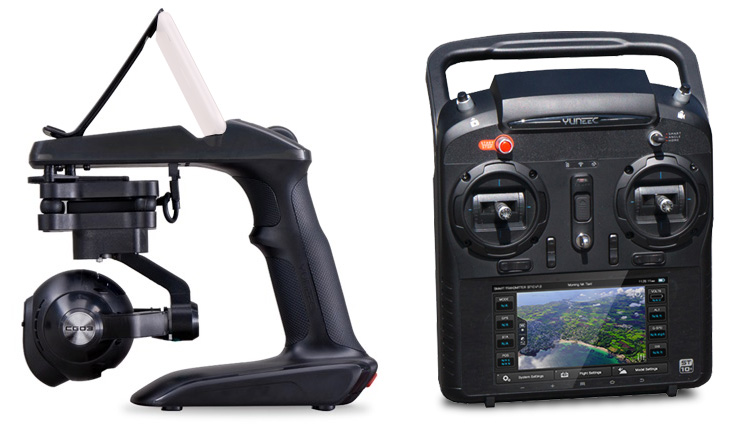 CG03 4K 3-AXIS GIMBAL CAMERA
With ultra-high definition (UHD) resolution, four times higher than HD, the camera delivers high-quality images with the ability to capture slow motion 1080p / 120fps and 12 megapixel photos. Capture life in 4K with incredible detail and unparalleled realism.
INTELLIGENT FLIGHT
The Typhoon Q500 4K comes packed with unique smart features to make flight and capturing the perfect shot a breeze. The Follow Me & Watch Me settings allows the drone to automatically position itself to get amazing footage of your actions on the go. Create amazing dronie (selfie) videos or just set up the Typhoon to follow you anywhere you go. Once done there is also a return to home button to bring the drone back safe and sound.
ALL-IN-ONE CONTROLLER
The ST10+ Personal Ground Station is an all-inclusive transmitter and receiver that gives you full control over the Typhoon Q500 4K drone during flight, allowing users to capture photos and shoot video with great ease as well as featuring a 5.5-inch touch screen that displays in-flight telemetry data. You will not need to install portable devices and your system will be always ready just as you left it.
MOVE. CAPTURE. CREATE
The STEADYGRIP CGO3 system combines a 3-axis precision gimbal with Yuneecs 4K Ultra High Definition video camera, allowing you to capture amazing and stable video footage from ground level. The camera controller app allows precise camera angle control while on-the-go, using a mobile device, with up to a 6.4-inch display.
Features:
This bundle comes with a free aluminium carry case worth £99 plus an extra battery. This week only!
4K Ultra HD camera and 3 axis gimbal system
Integrated 3-axis precision gimbal camera
Packed with smart filming modes to get the perfect shot
Full first person view and telemetry data displayed right on the controller
Control the resolution, white balance and exposure all while in the air
Up To 25 Minute Flight Time
The SteadyGrip handheld device ensures ground shots are as smooth as those taken from the air.
The CGO3 mobile APP allows SteadyGrip users to capture images, shoot videos and control the CGO3 gimbal camera.
Whats in the box?
1 x Typhoon Q500 4K drone
1 x CGO3 3-axis 4K gimbal & camera
1 x ST10+ 10-channel 2.4GHz controller
1 x Professional aluminium carry case
2 x 5,400mAh 3S 11.1V LiPo battery
1 x AC/DC Charger & 230V UK power adapter
1 x USB adapter cord
1 x Neckstrap
1 x ST10+ controller sun shade
2 x Full sets of propeller blades
1 x 8GB micro SD card
1 x ProAction handheld steady grip