Product Information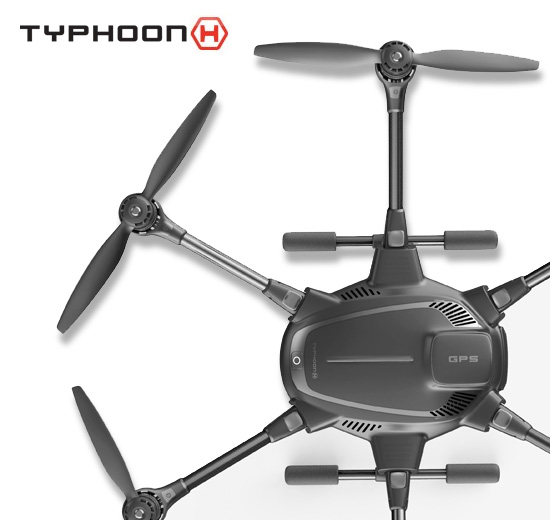 THE GAME CHANGER
The Typhoon H is the smallest and smartest member of the Typhoon family and the perfect choice for both skilled and novice pilots and photographers. The Typhoon H's six propellers provide up to 22 minutes of flight time while filming using its CGO3+ 4K, 360° rotation camera and comes as standard with the easy to use, intuitive, ST16 Personal Ground Station remote controller - with in-built 7-inch Android touchscreen for viewing superb FPV action.
COLLISION AVOIDANCE
For added peace of mind, the Typhoon H boasts a front-facing ultrasonic proximity sensor which has the ability to automatically stop itself before colliding into large objects.

YOUR 4K EYE IN THE SKY
The Typhoon H comes with the proven 3-axis CGO3+ gimbal camera offering 4K resolution. The gimbal itself can be rotated 360° in any direction and the camera can be pointed wherever needed, capturing silky smooth videos and vivid images as a result of the optimized 115° wide angle fixed focused lens.
ADVANCED ALL-IN-ONE CONTROLLER
The Typhoon H comes with the Yuneec ST16 personal ground station, a perfect controller and ground station to both fly and control all the settings on the aircraft, gimbal and camera through an intuitive user interface. The ST16 is equipped with a 7 Inch Android, colour, touchscreen for easy interaction. The screen displays the downlinked video as well as flight information and telemetry data.
SMART FLIGHT
The technology by Intel offers several smart functions integrated into the system including CYCLE, Point of interest (POI), Curve Cable Cam (CCC), JOURNEY and Front Ultrasound Sensor function. These functions add to the other proven safety features from Yuneec like Geo-fencing, Dynamic Return home, Low Battery Return Home and No Fly Zones.
Features:
Complete Ready-To-Fly 4k camera drone with Sonar collision avoidance (this model does not include the real sense proximity sensor)
4K Ultra HD camera and 3 axis gimbal system
Integrated 3-axis 360 degree precision gimbal camera
Powered by Intel™ ultra-sonic sensor technologies
Six ultra powerful motors for unparalleled stability
Packed with smart filming modes to get the perfect shot
Full first person view and telemetry data displayed right on the controller
Control the resolution, white balance and exposure all while in the air
Up To 25 Minute Flight Time
What's in the box?
1 x Typhoon H 4K drone
1 x CGO3 3-axis 4K gimbal & camera
1 x ST16 16-channel 2.4/5.8GHz controller with 7" touch screen
1 x 5400mAH 4S 14.8V Li-Po batteries
1 x AC/DC Charger
1 x 12V DC car power adapter
1 x USB Adapter cord
1 x Controller neck strap
1 x Controller screen sun shade
2 x Full sets of rotors
1 x 16GB micro SD card